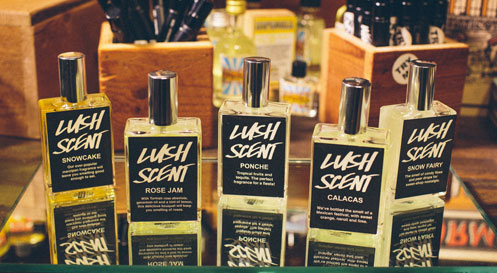 Yes, Lush has transformed their most popular scents into five limited edition fragrances!
Calacas £25/30ml-
"This fruity little number smells deliciously of lime and jelly beans, and puts a smile on the face of all who wear it. Lime and neroli oils give Calacas its citrusy kick, and we've added frankincense, or olibanum, to give a deeper richness to the perfume. Calacas is a favourite from Halloweens past, and was used in our Calacas shower jelly, The Enchanter bath bomb and Lady Catrina soap."
Ponche £23/30ml-
"
Ponche is a party fragrance, bursting with fruity energy and just the thing to pair with your best dress and high heels. The citrus scent of pettigrain oil combines with exotic davana and buchu oils to create something really special. This is the fragrance found in our best-selling Ponche shower gel, and is inspired by a boozy fruit punch that's traditional in Mexico. Refreshing and juicy, Ponche is a joyful fiesta of fragrance."
Rose Jam £30/30ml-

"The beautiful fragrance from our

Rose Jam bubbleroon and Ro's Argan body conditioner
is one of the most popular scents to have emerged from the Lush labs in recent years. We've taken real Turkish rose oil and rose absolute, added a hint of zingy lemon and a dash of geranium oil, which brings its own sweet, floral and slightly sharp note to the mix. The resulting fragrance is rich and fruity – a modern, youthful perfume that's nothing like the old-fashioned rose scents found on granny's dressing table."
Snow Fairy £25/30ml

-

"Christmas just wouldn't be complete without the sweet fragrance of Snow Fairy, our best-selling shower gel that's something of a legend in the world of Lush. We've come up with a number of inventions over the years that showcase its candy fragrance, but this is the very first time it's been made available in its purest form, as a luscious liquid perfume to keep you smelling sweet and tasty. If you love pear drops, candy floss and Dolly mixtures, let Snow Fairy send you on a fluffy pink journey of fragrance."
Snow Cake
£23/30ml-
"
There's something addictive about this sweet marzipan fragrance; it's what makes our Snowcake soap so beloved that we just have to bring it back every Christmas, and is also found in our Marzibain bubble bar and Smitten hand cream. Snowcake has all the delicious warmth of an almond pastry or a crisp macaroon, with sweet benzoin resinoid, floral rose absolute and the blackcurrant fruitiness of cassie absolute. This is a cosy, snuggly fragrance that's just perfect to see you through a long cold winter."
These Lush scents are limited edition and only available exclusively online for one month, so don't miss out!
Caitlin x